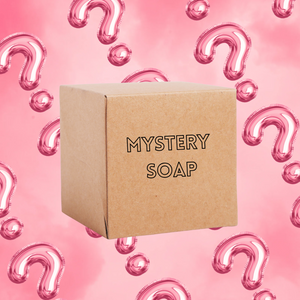 Madeluv
Mystery Soap Bar
Regular price
$8.50
$0.00
Unit price
per
Introducing our one-of-a-kind Mystery Soap, the perfect addition to your self-care routine! Each bar is a surprise, as is the scent and design are completely unknown until you unwrap it. Whether you're looking for a gift for a friend or just want to treat yourself, our Mystery Soap is the perfect choice. Only a limited quantity available so order yours today and discover the mystery that awaits!
.
You will receive one 6 oz bar of Mystery cold process soap. This product will come shrink-wrapped and will have a label on it with ingredients & instructions.
To Use: Just apply it over your body with a wet washcloth or loofah.
How To Store: Handmade soap will continue to evaporate water and lose weight, which produces a longer-lasting firm bar. Cold process soaps have a high amount of oils and butters. It will get mushy and soft if it is left in a puddle of water, so store your soap in a soap dish preferably one with holes or a shower rack.
Ingredients: Olive Oil, Coconut Oil, Palm Oil, Sweet Almond Oil, Castor Oil, Distilled Water, Lye, Tussah Silk, Sodium Lactate, Kaolin Clay, Coconut Milk, Fragrance, Mica, 
This product is for external use only. Do not consume in any way or form, now please take the soap away from your mouth! I know it's pretty and all that! 

All products are of course made by me in small batches and made with lots of luv and hard work! I will do my best to make a consistent product but there may be minor variations in color, shape, and size.
Thank you for stopping by today !!
---