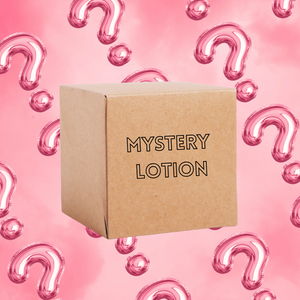 Madeluv
Mystery Body Lotion
Regular price
$10.00
$0.00
Unit price
per
Looking for a lotion that's a little bit mysterious? Look no further than this intriguing Mystery Scented Lotion, perfect for those who love a touch of the unexpected in their body care routine.. Each jar of this mystery lotion is handcrafted in small batches, ensuring that you receive a product that's as unique as you are! And with its luxurious texture and moisturizing formula, this lotion is sure to become a staple in your daily skincare routine. So why settle for a boring, predictable lotion when you can add a touch of mystery to your skincare regimen? Try this mysterious and delightful lotion today, and let its intriguing scent keep you guessing all day long! Only a limited quantity available!

You will receive One Jar of handmade Mystery body lotion.

Ingredients: Aloe Vera Water, Shea Butter, Cocoa Butter, Emulsifying Wax, Stearic Acid, Preservative, Vitamin E, Glycerin, Fragrance

To use: Scoop some out and apply to body

To store: Store in a cool place

This product is for external use only. Do not consume in any way or form.

All products are of course made by me in small batches and made with lots of luv and hard work! I will do my best to make a consistent product but there may be minor variations in color, shape, and size.

Thank you for stopping by today !!
---